Shop for Original, Personalized, Levitating or Galaxy Moon Lamps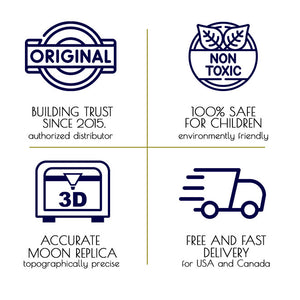 Why should you order from us?

Beware of cheap fakes that are sold with fragile design and incompatible rechargeable batteries. We offer premium, high quality Moon Lamps. 


Bring the calming atmosphere of the Moonlight into your home. Whether you place this designer lamp in your living room, nursery or as a bedside lamp in your bedroom, it will bring a calming and cozy atmosphere to your space. Moon lamps are also a very popular and original gift, especially if you personalize the lamp you are giving away.
Here are some things to know about our moonlight lamps:
● We made sure that Moon Lamps are manufactured from non-toxic materials.
● The lamp is engraved to display authentic Moon surface
● Lamps are cordless, which makes it super easy to change its location in your home.
● It will be operational for eight to 24 hours (depending on brightness level)
● Brightness and color can be adjusted according to your wishes
● Shipping time is 3-7 working days
● If you didn't like your lamp, we'll refund you, no questions asked.
● Building trust since 2015.
We print your photos and messages on all Moon Lamp models. See also our Designer collection with pre-designed symbols for different occasions for presents.

If you are looking for a really impressive gift, or a different lamp for your space, that will fascinate your guests, or intrigue business contacts, do not miss to check out our collection of levitating moon lamps.

From July 2021, we will also offer Galaxy Moon Lamps, as well as Galaxy and night star projectors.
Personalized Moon Lamps - Five Sizes
Galaxy Moon Lamps - Four Sizes
Moon Lamps designed for Gifts - Your picture our design!
Certified Moon Lamps
Enjoy the beauty and magic in your home with a moon lamp created with perfect 3D printing technology. Beware of cheap fakes that are sold with fragile design and incompatible rechargeable batteries. We offer premium, high quality original Moon Lamps.
Fast and free shipping worldwide
100% money back guarantee! 
We truly believe we sell some of the most unique items online, and we want to make sure we back that up with a risk-free 30 day guarantee.
If you don't like it, no hard feelings, we'll make it right. 
Over 100 000 lamps sold since 2015.
Check out Originial Moon Lamps Collection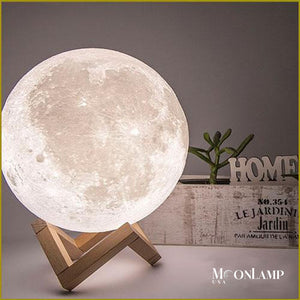 Exact Moon Replica
Every Moon Lamp is the result of more than 28 hours of 3D printing with state-of-the-art technology whose surface is modeled on the structure of the real moon. Every crater, every mountain and every surface has been printed with the utmost precision.
It's an accurate, 1 / 20th million replica of the Moon that shows all the craters, elevations and ridges in accurate 3D. Thanks to the special 3D surface structuring, the Moon appears lighter in some places and darker in others, which is reminiscent of the typical lunar craters and moon hills.
The original Moon Lamp® is topographically precise. We were able to achieve our accuracy with the data collected by the team of the German Aerospace Center (DLR) currently working on NASA's Lunar Reconnaissance Orbiter mission.
Personalized Moon Lamps
Each lamp can be personalized with your image and/or text, making it a perfect and unique gift for birthdays, anniversaries, Valentine's Day or other occasions.
Go to Personalized Moon Lamps Collection and choose the size of the lamp. When you're finished with the order, just send us a picture or/and text that you and would like printed on the lamp. Our designers will then prepare your image for 3D printing, free of charge.
If you have ANY special wishes for your customized lamp, please let us know. We LOVE spoiling our customers!
CHECK OUT PERSONALIZED LAMPS COLLECTION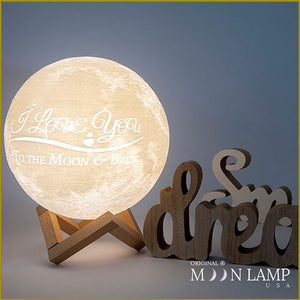 Have fun reading our stories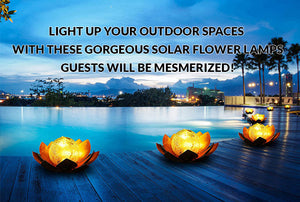 Solar flower lightning is a beautiful and elegant way to enhance your outdoor spaces. For enhancing your outside environment, check out the many solar flower lamps we have available in our...